Miniature Bears
All the bears you see here are 5 inches tall or smaller. I fell in love with these small friends this past year and can't get enough of them. All of the bears you see here are fully jointed. The thing that attracted me to these bears was the idea that a bear that small could still look like a full size teddy bear. I strive for that look in my own bears. Don't let their size fool you. These bears have more than enough love to go around and they are waiting to share it with you.
---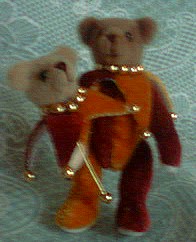 This is Jester. He is 2" tall and loves to make people laugh with his poupard. He is a great source of entertainment. Jester is made from medium brown cashmere and gold and burgundy velvet with suede paw pads. The puppet is made of a tan cashmere. They both have onyx eyes and wear a collar of gold and burgundy velvet that is garnished with gold beads.

A limited edition of 5

PRICE $40.00
---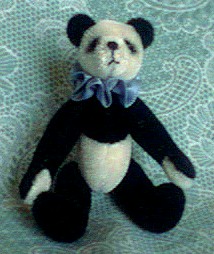 This is Mai Ling. She is 3" tall. This cute Panda is made from black and white upholstry velvet.This panda is finished with a blue ribbon gathered around the neck.
PRICE $40.00
---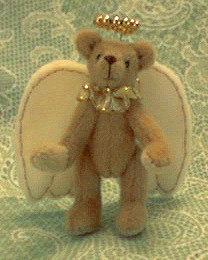 This little angel will help you celebrate the holidays. She is make of light brown cashmere with cream cashmere for the paws. Her Halo is gold wire with gold beads and her wings are made of white felt with gold embrodured feathers. She is finished with a gold edged ribbon gathered around the neck.
PRICE $35.00
---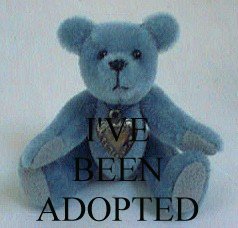 This is Bearnard. He is made of teal upholstry velvet and has suede paws. His eyes are of black onyx. This little guy has a heart charm around his neck, which is sure to be yours before long.
PRICE $ 30.00
---
This is Roger. He is made of a looped synthetic material. Roger is 5" tall and wears a colorful bow. The bow color may vary.
PRICE $ 25.00
---
I love the miniatures the best, but the larger bears are huggable and adore attention and love. Come on over and take a look at them.

---
Copyright 2002, Bears and Friends By Joleine. All Rights Reserved